Colorado, known as the Centennial State, is more than just picturesque landscapes and breathtaking mountains. It's a place where the dream of owning your very own farm or ranch can become a reality. The vast expanse of land and the diverse natural beauty have made Colorado an attractive destination for those seeking to live off the land.
In this guide, we'll take you through the allure of farms and ranches for sale in Colorado, the factors to consider when buying one, the diverse regions available, the challenges you might face, the investment potential, and how LandLeader can be your trusted partner in finding your dream property.
Farms and Ranches for Sale in Colorado: Exploring the Allure of the Centennial State
Colorado's charm lies in its diverse landscapes, from the fertile plains to the rugged mountains. The state provides a unique blend of natural beauty and opportunity. Whether you're an aspiring farmer, a seasoned rancher, or a nature enthusiast, Colorado is the perfect place to start your journey. You'll find properties with sweeping views, access to outdoor recreational activities, and the chance to build your dream home in a peaceful and pristine environment.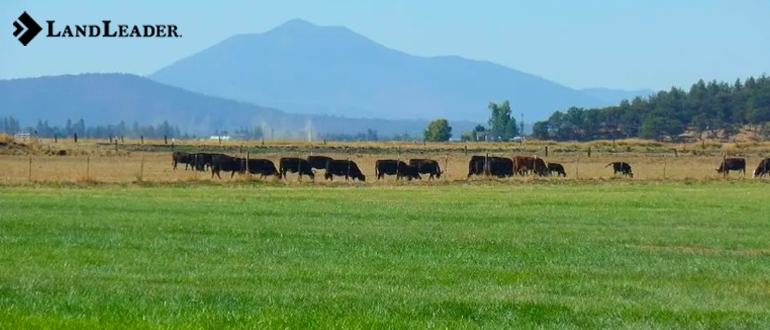 Factors to Consider When Buying Farms and Ranches in Colorado
When purchasing a farm or ranch in Colorado, it's crucial to consider various factors:
The state offers diverse regions with varying climates and landscapes. Your choice depends on your intended use for the property.
The size of your property will dictate what you can do with it, whether it's for farming, ranching, or a mix of both.
Understanding water rights and availability is vital for agriculture in Colorado.
Be aware of local zoning laws and regulations to ensure your plans align with the property you're interested in.
Access and Infrastructure:
Consider road access, utilities, and existing infrastructure on the property.
Soil types can affect what crops or animals you can raise successfully.
Exploring Colorado's Regions for Farms and Ranches
Colorado can be divided into distinct regions, each with its unique characteristics:
Ideal for small farms, proximity to Denver, and diverse recreational activities.
Vast, flat land suitable for large-scale farming and ranching.
Known for its vineyards and orchards, it offers a milder climate and excellent water resources.
Perfect for recreational ranches and escape from the bustling city life.
Challenges and Tips for Buyers
Buying a farm or ranch in Colorado can be a rewarding endeavor, but it also comes with its share of challenges. Below are some of the significant challenges you might face, along with valuable tips to guide you through the process effectively:
Water Rights Complexities:
Water is a precious resource in Colorado, and understanding water rights can be challenging. Be prepared to navigate water rights regulations, water usage, and seniority issues, which can significantly impact your property's agricultural potential.
Each county in Colorado has its own land use regulations. Familiarize yourself with local zoning laws and land use restrictions, as they can affect your intended use of the property.
Farms and ranches often require significant upfront investments. Securing financing and budgeting for ongoing maintenance and operations is a crucial aspect of property ownership.
Engage with Local Experts:
Working with experienced real estate agents, land consultants, and lawyers specializing in Colorado's rural properties is invaluable. They can help you navigate the complexities and nuances of the buying process.
Conduct extensive due diligence on the property. This includes soil testing, water rights investigations, and environmental assessments. A thorough inspection will help you make an informed decision.
Water rights are a critical factor in Colorado agriculture. Consult with a water rights attorney to ensure you clearly understand your property's water rights and any associated restrictions.
Investment Potential and Returns
Investing in a Colorado farm or ranch can be a rewarding venture. The state's strong agricultural industry, combined with its beauty and recreational opportunities, can yield substantial returns on your investment. Additionally, properties in the right location can appreciate significantly over time.
LandLeader: Your Partner in Finding Your Dream Property
You don't have to do it alone when finding the perfect farm or ranch in Colorado. LandLeader is your trusted partner in real estate for rural and recreational properties. With their extensive network of professional brokers who specialize in farms and ranches, they can help you find the ideal property that suits your needs and goals.
In conclusion, Colorado's farms and ranches offer an unparalleled lifestyle, from picturesque landscapes to the chance to live off the land. By considering the factors, exploring the regions, overcoming challenges, and partnering with LandLeader, you can make your dream of owning a Colorado farm or ranch a reality. Whether you're a seasoned landowner or a first-time buyer, the Centennial State welcomes you to its diverse and vibrant agricultural and ranching community.